A box of Absolutely Nothing
£

3.00
Sold out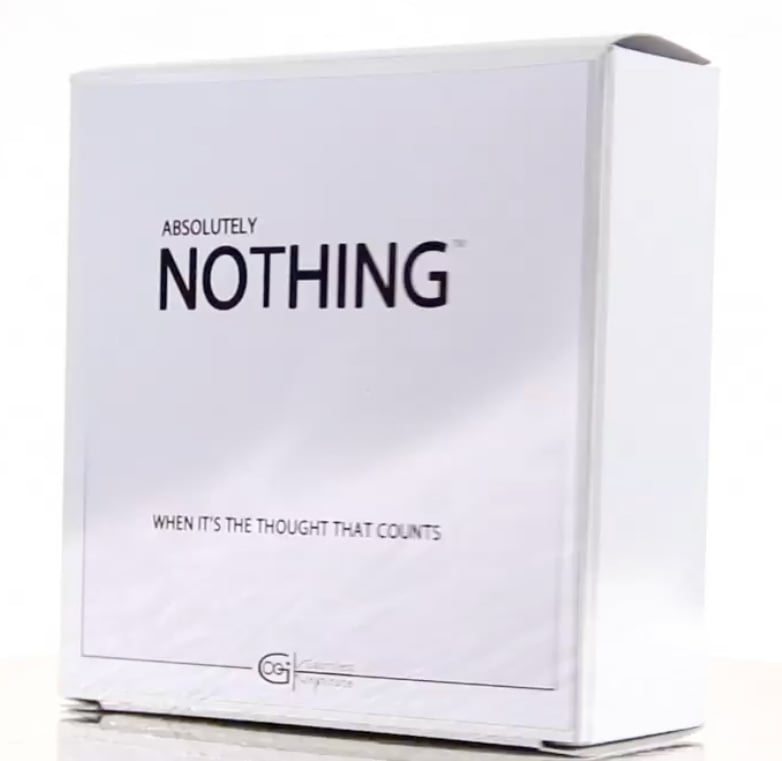 Important:
Sadly our sources for Absolutely Nothing are dry and we are working to correct this, and more significantly to make Absolutely Nothing an open source commodity. Please check back later.
It really is what it says it is!
When you buy Absolutely Nothing through the Gauntlett Institute a box of Absolutely Nothing is exactly what you are guaranteed to receive.
Each box of Absolutely Nothing is personally checked for defects and signed by Professor Gauntlett himself.
A truly fabulous gift!
Not only does Absolutely Nothing alleviate stress but also brings a scientifically verified gooey feeling of receiving the ultimate ethical item.
Features of Absolutely Nothing:
- Expires: N/A.   A life time of fun!
- Fully reusable.  No maintenance!
- Light weight. Compact.  Easily stored or transported!
- No environmental impact.  The ethical gift!
- Has no application or use freeing up time for social intercourse, R & R, R & D, travel and other important pursuits.
- Ingredients: 100% Absolutely Nothing
- Cheap!
(Boxes often come flat packed but we guarantee it does not affect the quality of the product)
SOMETIMES ONLY NOTHING IS THE THING!
See the video at www.giinnovations.com for full details.